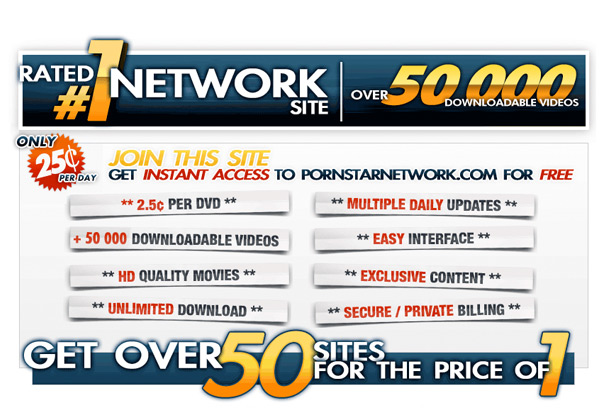 Check out the hardcore action as all these beautiful sluts get banged by a lucky guy before getting creamed over and over again by at least 10 guys!! Be warned... it gets messy!!!


ClubPeterNorth.com gives you access to an impressive collection of high quality videos featuring Peter North. If you like seeing the biggest names of the industry in action, if you like seeing pretty girls splattered in a generous amount of cum, this is THE place to be!


Fuck That Asian is about hot asian girls, sucking, fucking, taking it up the ass and doing all the dirty things you've been wanting to see asian girls do! They're hungry for cock and they all get their innocent faces covered in cum! This site is the best 24 Hour asian buffet with nothing but pussy on the menu!


What can you get with an 11 inch black cock? 3 Adult Video News Performer of the Year awards! His official site is filled with his exclusive movies, pictures, TV talkshow episodes and live shows. Fans will live the definitive Lex experience.


The Lucky Man features 1 guy banging 5 chicks. That's one of highest hole for cock ratios on the net. This exclusive reverse gang bang site was created with content shot by DVSX, a rising studio in the adult industry. Come on and take a look. Who knows, maybe you'll be this lucky one day?


LoadMyMouth.com features HUNDREDS of girls sucking Brandon dry. One after the other, Brandon cums in their mouths and they swallow every drop. These girls are on an all-liquid diet and they're loving every minute of it!!


This site features girls with a real drinking problem but it's not with alcohol, it's with cum. Most of them swallow over 10 loads, some in a glass, some straight out of the pipe. The thing to remember is... there's no bad way to swallow your sperm cocktail.


Bang Me Boys features sluts who will only be satisfied when presented with 5 cocks. Anything else won't make them horny. This site features a lot of Double Penetration, Ass To Mouth and messy Cumshots. With 5 cocks in the picture, you can't expect less. The sluts here get pounded hard. The content on the site was shot by the DVSX studio.


This site is about really hot girls with cocks stuffed into each holes. They are filled up just the way they like it. They want to suck and fuck, and they can't get enough of being reamed in both holes. These girls are ready to show you some of the most amazing double penetrations. You won't have a thing to complain about because every one of these cuties just loves being dp'ed, a cock in each hole is all they ask for.

There is nothing sweeter than a hot, wet pussy smothered in man cream! Deep inside these sugar watts, you will find a huge cock-cum surprise spewed inside ever one! Filling these holes to full-blown capacity with the creamy goodness is what these vixens crave from their high protein diet of "the yummy good stuff!


When tension rises, nothing blurs the line between love and hate better than a hardcore grudge fuck. This site takes you to the next level of settling the pains of passion and the standard sex scene gets a hair pulling beat down. Twisted scenes of aggressive pussy pounding and mouth fucking, HostileFucking.com shows you that sometimes anger does solve problems.



HostieFucking

FlirtyPussy

BrunoBReloaded

LoadMyMouth

HeavenlyKnockers

SpermCocktail

DeepInCream

CoverMyFace

LexPOV

ClubVanessaBlue

MoreThanaGirl

FuckThatAsian

LexBigCockMovies

LexInterracial

LexMovies

LexOnBlondes

BangMeBoys

TheLuckyMan

OnlyDP

BlackReignX

LexSteele

IWantLatina

HardcoreFiesta

SilverstoneVideos